Whether it's a classic mid-century modern or a more recent build into one of the area's newest developments, Palm Springs boasts an impressive cachet of residential real estate.

Made famous by the celebrity elite of Hollywood's Golden Era, Palm Springs has long served as the nexus for those wanting a taste of the opulent desert lifestyle. Modern-day celebrities still flock to the area to invest in its classic, mid-century luxury.

And while the Coachella Valley has expanded over the decades to feature prime housing in Palm Desert, La Quinta, and Rancho Mirage, Palm Springs remains the highlight for some of the area's most stunning properties.

But which homes shine above what is arguably the most impressive collection of real estate anywhere in California?

Let's jump into the best of what's on offer in the Coachella Valley's showcase community. Here are seven of the most luxurious Palm Springs mansions currently on the market.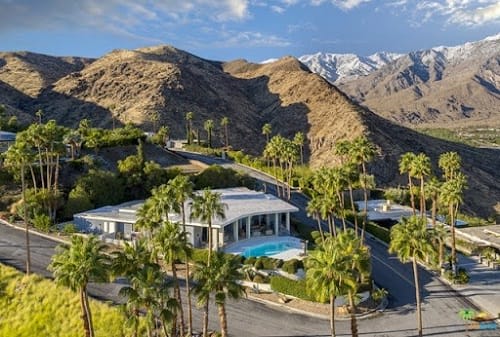 $6.8 million | 4,681 sf | 2 beds 4.5 baths | 1971 construction

We start our list of spectacular Palm Springs mansions with what is currently the city's most expensive single-family listing. Of course, luxury isn't always defined by its price tag, but upon entering 2432 Southridge, you'll understand why this property gets the nod as the city's priciest.

As with many Palm Springs neighborhoods, Southridge carries a celebrity lineage. Bob Hope, William Holden, and Steve McQueen all laid claim to this private gated community thanks to its commanding views of the desert mountains and Coachella Valley floor. 

2432 Southridge offers up these views in abundance, especially from its exquisitely crafted back patio and pool. But it's the home's interior aesthetics that grab your attention. What can only be described as a lush, richly detailed time-capsule that nods joyously to a bygone era, the home features floor-to-ceiling windows, striking marble and terrazzo floors, an expansive and very well-appointed kitchen, and a master bath complete with a private atrium.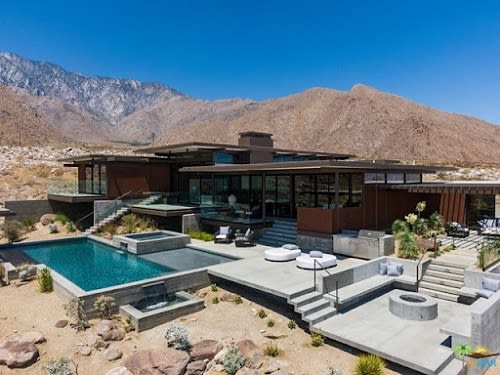 $6.4 million | 3,169 sf | 3 bed 3.5 bath | 2021 construction

Our next home also eclipses the $6 million mark — and does so in dramatic fashion. The most recent build on our list is a contemporary interpretation of the mid-century modern home. 2465 Winter Sun uses natural materials and a sleek, minimal design to blend seamlessly into its surroundings.

The three-bedroom, three-and-a-half-bath home welcomes you up dual flights of single-slab, poured concrete steps across a similar concrete bridge walkway and through the immaculate entryway. It isn't easy to pick a favorite highlight considering the home features polished concrete floors, Teak paneling, extensive use of steel accents, designer lighting, and an effortless flow from one room to the next.

Situated behind the exclusive gates of the Desert Palisades community, 2465 Winter Sun includes a stunning, multi-tiered outdoor entertaining area. The exterior space unfolds into the rocky desert landscape. Top features include multiple seating areas perfect for dinner and drinks, an infinity-edge gunite pool and spa with sunbathing ledge and water features, a gazebo, and a fire pit with surround seating, all of which overlooks the Coachella Valley below.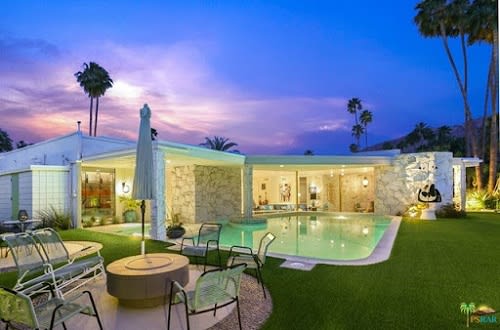 $4.5 million | 3,711 sf | 3 bed 3.5 bath | 1961 construction

Our next home is part of Palm Springs' impressive cache of historic mid-century modern residences that stand a step above the rest. Built in 1961, the fabulous Morse Residence defines an era. Designed by the celebrated duo of Dan Palmer and William Krisel for The Alexander Company, the home resides in the equally iconic Vista Las Palmas neighborhood.

The home's exterior is a work of art. A terrazzo walkway leads into this one-of-a-kind property that features a sunken living room, Malm fireplace, stone walls, and backyard pool that blurs the line between indoor-outdoor living — literally. In other words, step out of the pool into the living room and cozy up to the six-seater bar. This house proves the '60s were indeed a grand time in Palm Springs.

More than a home, The Morse Residence is an iconic piece of Palm Springs history. The house was the first in the Vista Las Palmas community to earn Class 1 Historic Site status. As such, it is eligible for Mills Act tax credits from the California Office of Historic Preservation. Rare is the opportunity to own a home of such historical significance in an area that proudly celebrates its architectural heritage.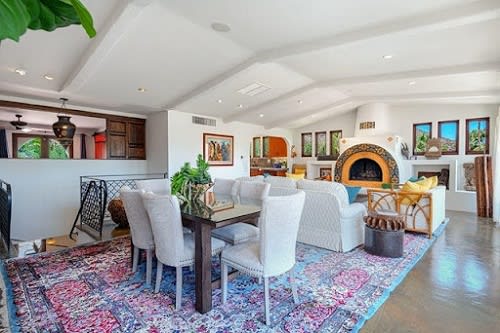 $3,498,500 | 3,306 sf | 4 bed 4 bath | 1952 construction

No list of luxury Palm Springs homes is complete without an entrant from the Historic Tennis Club enclave. The oldest home featured on our list boasts a beautiful Moorish flair. 

A unique architectural gem, the home's Morrocan influences help it stand apart from the more common mid-century moderns that populate Palm Springs. Intricate mosaic tile, eye-catching archways, plaster, iron, and wood accents all feature in this historic and well-cared-for home. 

Additional amenities include 1,200 square feet of balconies, a second kitchen perfect for accomodating large dinner parties, and a wonderfully expansive outdoor area. In addition to the large cobalt blue pool, there's a built-in seating area and fire pit, and outdoor grill and bar.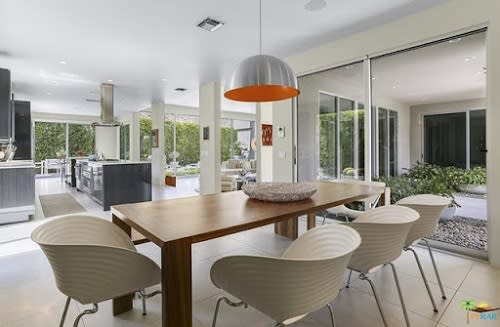 $3.469 million | 3,039 sf | 3 bed 3.5 bath | 1979 construction

Our penultimate home is a 40-year-old contemporary design in the vaunted Vista Las Palmas neighborhood that carries a keen eye for the future. The solar-powered property sits along a quiet, private street and backs to the Tachevah Canyon. 

A beautifully free-flowing floor plan is flooded with natural light and sees the living room, kitchen, and dining area connect seamlessly — perfect for a family night in or dinner party for 20. The master bedroom is a comfortable modern retreat that includes a fireplace, a large walk-in shower, and a soaking tub in the en suite. Two more en suite bedrooms and a lovely media room complete the interior.

The home's outdoor area is cozy and quaint. It includes a pool and spa with water features, towering hedges to keep your private moments private, and an additional sitting and grill area to play host to your favorite outdoor cookouts.
Ready to explore the best of Palm Springs real estate? Contact Scott Ehrens today to start your home buying journey. From Indian Canyons real estate to Vista Las Palmas homes for sale, allow Scott and his years of experience and expertise to be your guide to the Coachella Valley luxury real estate market.