The Movie Colony is a compact neighborhood in Palm Springs featuring the classic earmarks of Palm Springs luxury real estate. In addition to a burgeoning population of year-round and seasonal residents, thousands of visitors flock to Palm Springs every year for world-class golf, tennis, and a variety of popular festivals, including Stagecoach and Coachella.

Palm Springs retains the air of sophistication and elegance that Hollywood stars brought to the community in the 1930s. Old Hollywood celebs flocked to the growing desert city during winter to soak up the sunshine they couldn't always get in Los Angeles. Many of them decided to buy or build homes, and their legacy remains in the properties and design choices of Palm Springs homes today. If you're searching for Palm Springs real estate, The Movie Colony is a fabulous place with much to offer.

The Movie Colony retains that old Hollywood charm, thanks to chic vintage hotels, upscale restaurants, and picturesque Palm Springs homes with swimming pools and tennis courts. There are only about 170 homes in The Movie Colony, and they range in style from mid-century classics to contemporary homes that ooze luxury and the quintessential Palm Springs lifestyle.

If you're interested in buying Palm Springs real estate in The Movie Colony, your first step should be hiring a local real estate agent with experience researching and negotiating for Palm Springs and The Movie Colony clients. A top Palm Springs realtor like Scott Ehrens will understand pricing trends, know immediately when these sought-after homes hit the market, and can quickly schedule a showing. They will also know how to craft the perfect offer, so you spend less time looking and more time enjoying the desert sun.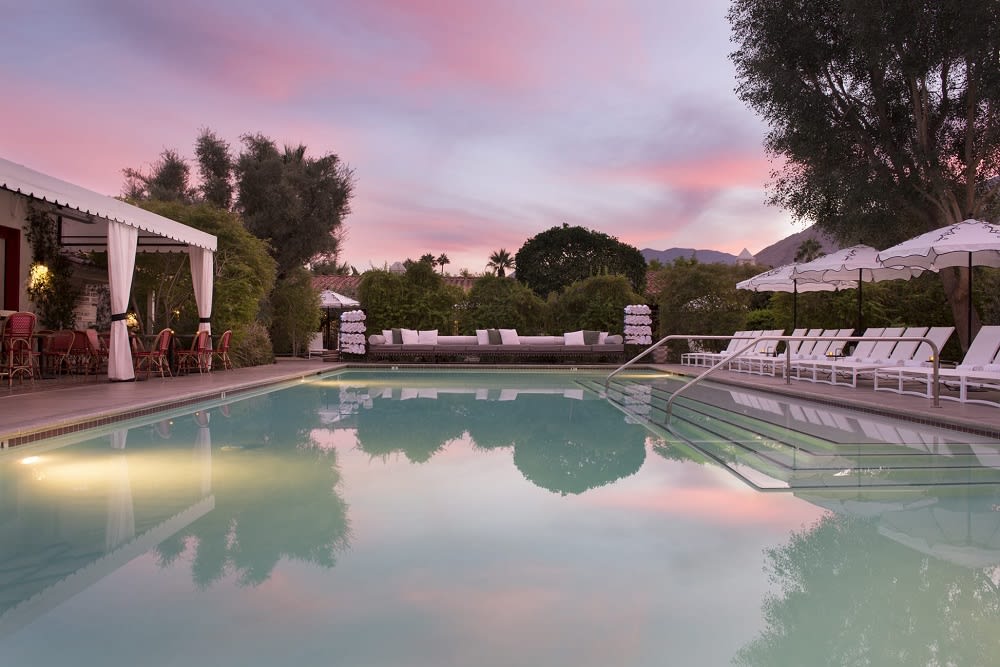 The Movie Colony
The Movie Colony was developed in the 1930s and 1940s. Over the ensuing decades, it attracted stars such as Frank Sinatra, Marilyn Monroe, Cary Grant, Dinah Shore, and Tony Curtis.

The centerpiece of this neighborhood was the fashionable El Mirador Hotel, which was a gathering place for Hollywood stars and other members of high society. The hotel is gone, but a Spanish-Colonial Revival-style bell tower is a reminder of the past glory. When Hollywood stars began acquiring Palm Springs luxury real estate, they were attracted by The Movie Colony's location near downtown as well as the privacy afforded by walls and landscaping.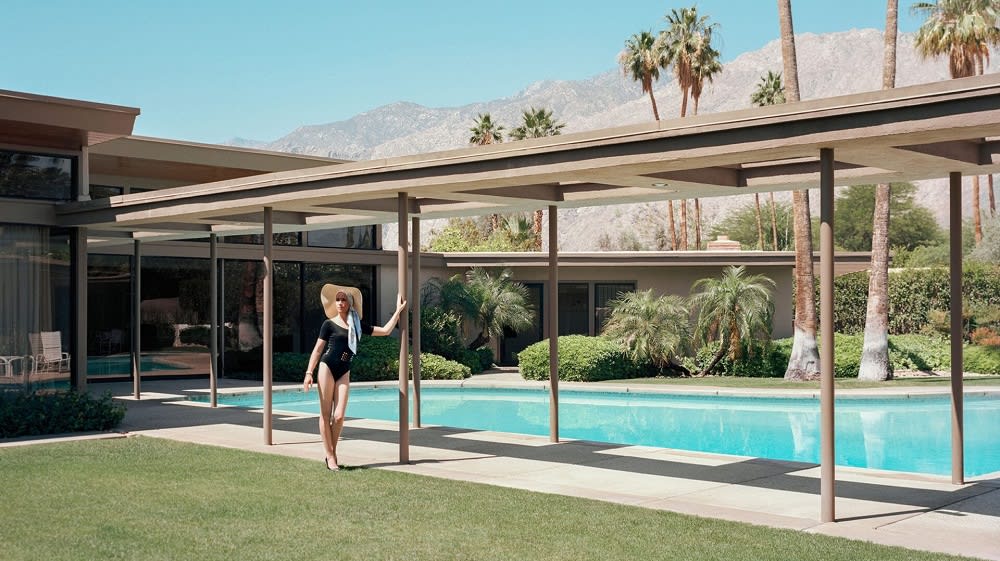 Famous Attractions
Frank Sinatra's Twin Palms
One of the most famous Palm Springs homes is Frank Sinatra's former residence, Twin Palms, in The Movie Colony. It was designed for the legendary singer/actor and his first wife, Nancy, by E. Stewart Williams in 1947. Since Sinatra was one of the leading entertainers of the era, the home quickly became a social hotspot during the 1950s. The main house is 8,000 square feet, and also features guest bungalows.

Twin Palms is now available for special events and nightly rentals. The rate starts at $2,500 a night for the home, which sleeps eight and is known for its piano-shaped pool and an interior with period furnishings.
The Zanuck Estate
The Zanuck Estate was once known as The Desert Royal Palace, thanks to the rotating cast of Hollywood tycoons and European royals that lived there.

The estate belonged to movie producer Darryl F. Zanuck for decades, and before that was the home of another Hollywood mogul, Joseph Schenk. The home was built in 1935 and has 10 bedrooms and a 70-foot swimming pool.
Bob Hope's First Home
Bob Hope's first piece of Palm Springs real estate is at 1188 E. El Alameda in The Movie Colony. It was one of a few homes the legendary comedian owned in Palm Springs, including the massive, modernistic home designed for him by John Lautner, that commands a hilltop view in Southridge.

Hope loved cracking jokes about Palm Springs, including one of his favorites: "I just bought an $18,000 home in Palm Springs, and it only cost me $65,000."
Truman Capote's Home
The famous novelist first rented this home at 853 E. Paseo El Mirador and then purchased it in order to spend more time in the desert. The author of "In Cold Blood" and "Breakfast at Tiffany's" reportedly hosted lavish parties for important socialites.
Ruth Hardy Park
One of the highlights of owning a home in The Movie Colony is the 22-acre Ruth Hardy Park, which features some of the best public outdoor recreation opportunities in Palm Springs. The park includes eight tennis courts, three sand volleyball courts, a basketball court, play structures for kids, picnic tables, jogging trails, and grills. It also has a wellness park with an outdoor gym and meditation garden.
Shopping for your piece of Palm Springs?
The Movie Colony is within walking, biking, or skateboarding distance from downtown Palm Springs, and provides easy access to all the city's premier attractions.
If you plan to buy (or sell!) Palm Springs real estate in the fantastic Movie Colony area—or in any of the luxurious neighborhoods nearby—contact top Palm Springs realtor Scott Ehrens for first-class customer service and a research-driven approach to real estate investing.