Rare is the city that offers such a wide range of standout luxury neighborhoods that, whatever your tastes, pursuits, or lifestyle, there is a place to call your own.

Palm Springs is one such place.

In total, Palm Springs has over 50 individual neighborhoods and communities, spread over the Coachella Valley and the city's 95 square miles.

Some of these are but tiny enclaves, with just a handful of homes. Others are massive, master-planned developments featuring an array of amenities. And yet, all of them offer the lifestyle and livability that's become synonymous with Palm Springs.

A handful of the neighborhoods, however, stand out in this city of 50,000 residents. They provide the best that Palm Springs offers, including stunning accommodations that range from low-maintenance condos to stylish townhomes to extraordinary single-family homes.

The only question is which lifestyle are you going to choose.

From Old Las Palmas to Indian Canyons, we explore seven of Palm Springs' top neighborhoods to call home and figure out which community is right for you.
Indian Canyons
Pricing: from $500,000 to $3 million

Home to gorgeous trails and ample natural beauty, Indian Canyons is situated on the southern edge of Palm Springs. This off-the-beaten-path destination provides quietude and peacefulness to its residents while maintaining proximity to Palm Springs' core.
With the Indian Canyon Golf Resort nearby, residents can take advantage of stunning palm-lined fairways and the club's decadent dining. Novice players and scratch golfers alike will enjoy afternoons on the greens of either of the club's esteemed courses.

The area's immaculate estates are surrounded by winding canyon trails, making this community perfect for equestrians and outdoors enthusiasts. The solace of nature abounds in Indian Canyons, where spacious lots provide plentiful elbow room and the sweeping desert vistas are always within reach.
Deepwell Estates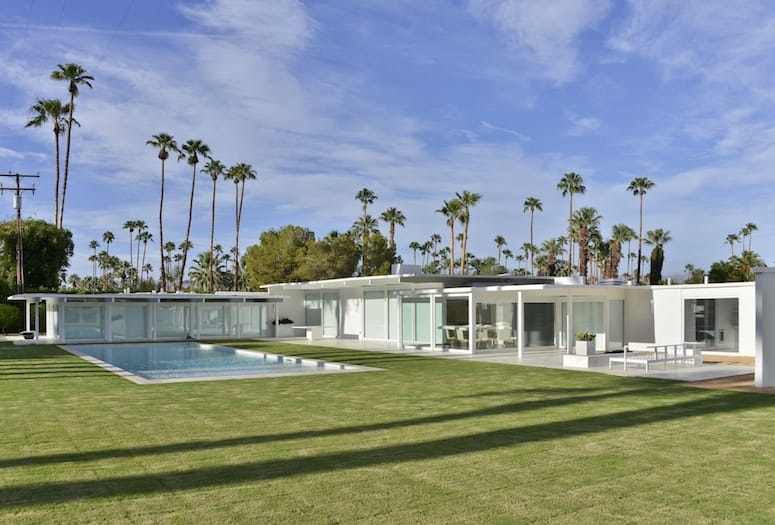 Once an apricot orchard and named for the deepest well drilled in the Coachella Valley, Deepwell Estates dates back to 1952 and was highly regarded by celebrities including Richard Burton, Eva Gabour, Jerry Lewis, Elizabeth Taylor, and Loretta Young. Today the community offers a mix of old and new, with many classic estates very well preserved.

Featuring predominantly mid-century modern homes, Deepwell Estates also includes California Ranch and a handful of contemporary builds. However, the real draw is the sheer number of architects who've put their stamp on the community, including homes by William Krisel and Donald Wexler.

Deepwell also presents a homeowner with easy access to several of Coachella Valley's best golf courses, including O'Donnell Golf Club, Indian Canyons Golf Resort, Mesquite Golf and Country Club, and Tahquitz Creek Golf Resort.
Historic Tennis Club
Pricing: From $1 million to $5 million

Quintessentially Palm Springs, Historic Tennis Club represents one of the city's oldest and most celebrated neighborhoods. The enclave offers residents a mix of condos, townhomes, and some of the region's most exquisite single-family homes. Spanish, contemporary, and mid-century modern are the predominant architecture styles.

Mere steps away from South Palm Canyon Drive and the bustling downtown streets of Palm Springs, Historic Tennis Club boasts many boutique hotels, quaint bed and breakfasts, and the area's namesake Palm Springs Tennis Club. Restaurants such as Les Vallauris keeps the area on the cutting-edge of culinary trends. The Willows Historic Palm Springs Inn is an iconic local venue with luxury amenities and a cozy, rustic charm. With more than 20 hotel properties in all, the community possesses a subtle and chic, always on the move vibe.
Dating back to the neighborhood's earliest days in the 1930s, the resort club, which is situated at the base of the San Jacinto Mountains, boasts an active social calendar. Spencer's Restaurant was a favorite of the Frank Sinatra-led Rat Pack. Of course, the club's namesake 11 tennis courts are accommodating to players of all skill levels.
The Mesa
Pricing: From $1 million to $8 million

Offering a stunning collection of homes in an equally stunning location, The Mesa's earliest developments date back to the 1920s. More so than other Palm Springs neighborhoods, The Mesa offers various home styles, including Contemporary, California ranch, the ubiquitous mid-century modern, and Spanish Colonial.

Tucked into the foothills of the San Jacinto Mountains, almost every home features a large lot, with many homes possessing enough space for a pool and tennis court. The area is decidedly more eclectic than its sibling neighborhoods farther to the north. The community offers one of the more secluded, under-the-radar experiences in Palm Springs, but you won't be far removed from dazzling dining options, like Mr. Lyons Steakhouse. Former famous residents include Cher, Sonny Bono, and Rita Hayworth.

The Moorten Botanical Garden is located within the community's footprint and celebrates the desert plant life indigenous to the Coachella Valley. It only serves to enhance The Mesa's rustic, rural desert vibe. Every home features extraordinary up-close views of the San Jacinto Mountains and quick access to a handful of hiking trails that snake up the mountainside.
Movie Colony
Pricing: From $1 million to $6 million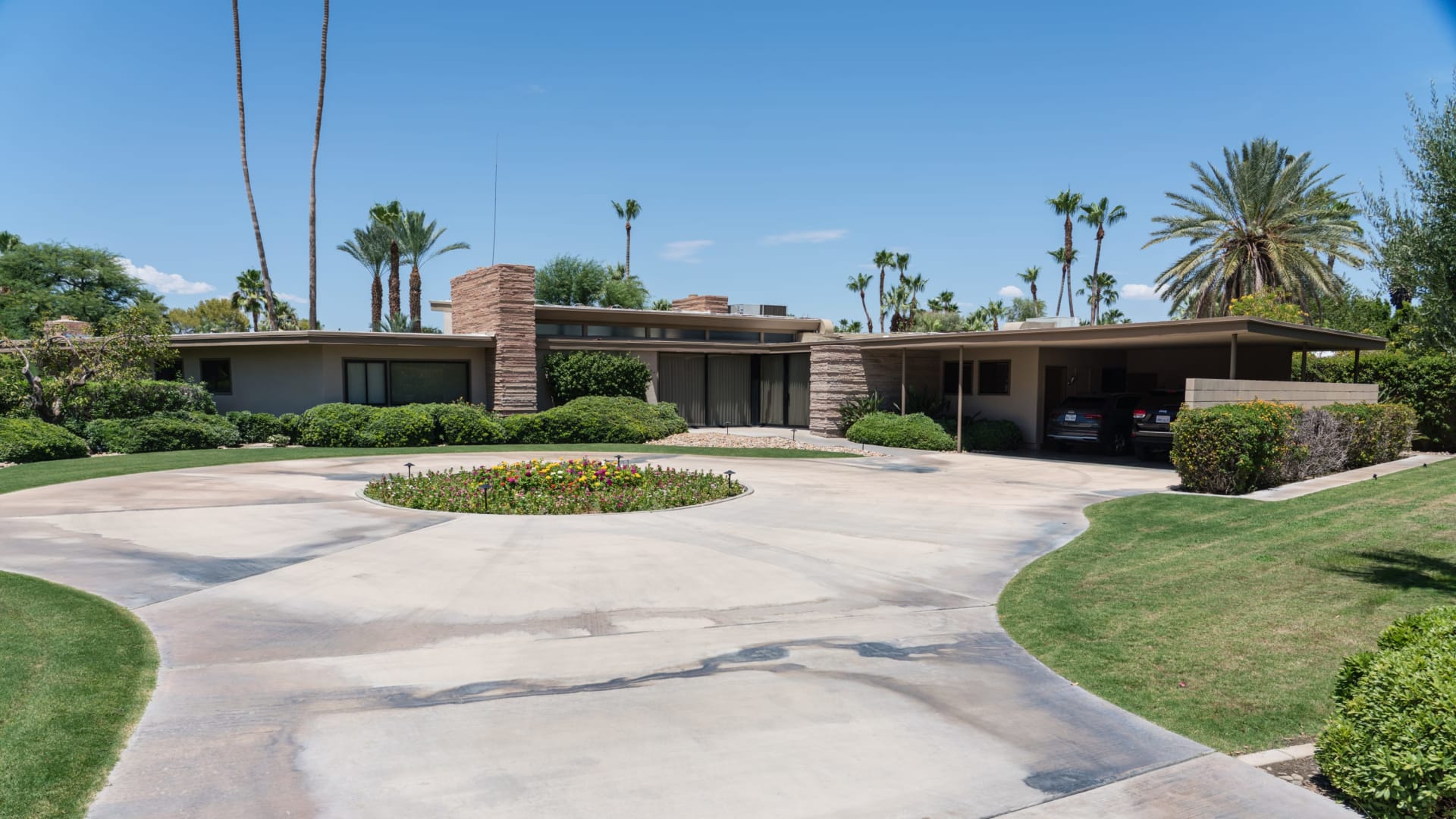 Old Las Palmas
Pricing: From $500,000 to $18 million

Another of Palm Springs' famed addresses, Old Las Palmas was a favorite landing spot of the Old (and New) Hollywood elite. Gene Autry, Lucille Ball, Clark Gable, Katherine Hepburn, Liberace, Dinah Shore, and Spencer Tracy all had their names on real estate in this glitzy, gated neighborhood of approximately 300 homes. In modern times, Leonardo DiCaprio has acquired property in Old Las Palmas as well.

Arguably one of the city's most coveted communities, an address here means you've arrived in the upper echelon of success and luxury. Every home is architecturally significant, with a handful of the most prestigious properties dating back to the development's earliest days in the 1920s and 1930s. Built on a former citrus grove, many houses border on the spectacular, with large lots and plenty of privacy. There's also a lot of variety with home styles that include contemporary, mid-century, postmodern, Spanish Colonial, and even western-styled ranches.

Old Las Palmas benefits from an incredibly convenient location, sandwiched between Vista Las Palmas to the west and Movie Colony to the east. The star-studded enclave encompasses a portion of North Palm Canyon Drive, which means easy access to Downtown Las Palmas and its boutique shopping and eclectic dining and nightlife.
Vista Las Palmas
Pricing: From $1 million to $5 million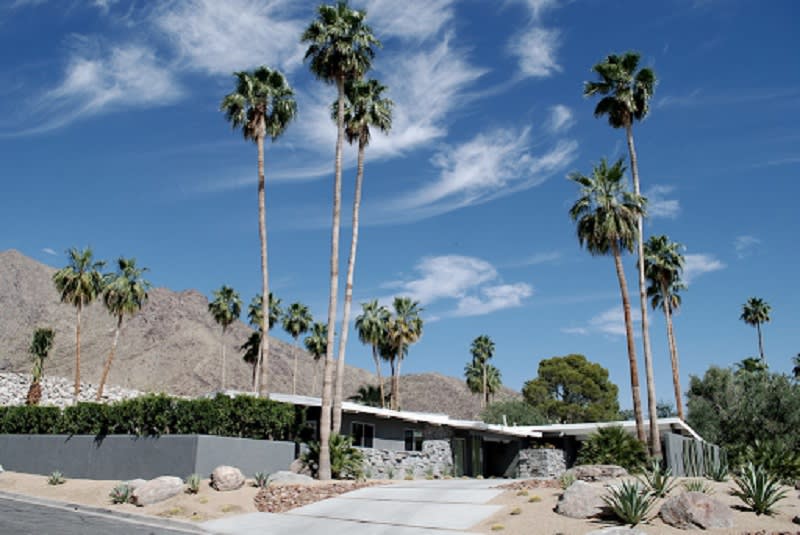 Due west of Old Las Palmas is another of Palm Springs' classic mid-century modern neighborhoods—Vista Las Palmas. Although some early development traces back to the 1920s, this neighborhood thrived in the 1950s and 1960s, at the height of the mid-century design movement. Not to be outdone by its neighboring enclaves, Vista Las Palmas featured its own Hollywood contingent, including Debbie Reynolds and Dean Martin.

Homes in Vista Las Palmas are distinctive designs, many of which owe their aesthetics to William Krisel, the famed architect who had a hand in many of Palm Springs's most esteemed neighborhoods. Although holding to their roots, most of the community's roughly 400 homes have seen updates encompassing current-day conveniences.

Vista Las Palmas offers a slightly more remote locale than the neighborhoods directly along North Palm Canyon Drive, which gives it a quieter bedroom community vibe. That said, you could still walk to Downtown Palm Springs in about 15 minutes without breaking a sweat. You also have easier access to I-10, which is good news for those commuting 90 minutes into Los Angeles.