Building a new home from the ground up is likely the most significant project you will ever undertake. Starting from scratch may feel overwhelming, but the actual building and planning don't have to be, given the proper help.
Homebuilding requires plenty of planning, preparation, and, finally, execution. This general guide will help you understand the necessary steps to build your dream home in Palm Springs.
Plan Your Budget
You may be over the moon dreaming up the fabulous new home you're going to create beautiful memories in, but let's bring you back to earth to discuss the first step in homebuilding. Budgeting is necessary to determine how much you expect to spend on this project and your maximum limit. Making a spreadsheet will be the easiest way to create a budget to plug in costs for labor and materials. There are many free budgeting resources online to aid you in this vital stage. Be realistic about how much you plan to spend, account for extra features you'll want, like a garage or in-ground pool, and adjust your budget as needed.
Purchase Property
Finding the right location for your build is a crucial component to building a home successfully. Do you have kids? Make sure the site is close to their school. Want to live close to work? Ensure the location is close enough that you will be spending less time in traffic and more time enjoying your new digs.
Find out the area's zoning requirements, ordinances, and plans for future development.

Think twice before settling on a plot. Is it close to the airport, train track, or other noisy distractions?

Consider hiring an appraiser to ensure you are paying a fair price for the land you choose.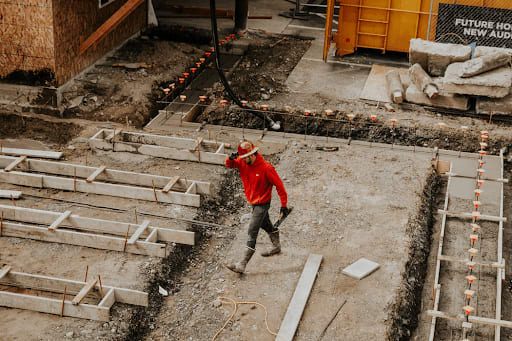 Find a Contractor
Many states allow homeowners to be contractors on their home-building projects. However, very few people are qualified to be their own general contractors. You can legally be an owner-builder in California if you occupied the residence 12 months prior to home building completion. Yes, you save money on contracting fees, but at what cost?
Acting as a contractor saves money, but what you save in cash, you lose in time. Contracting can be stressful, time-consuming, and requires a great deal of knowledge. Leave it to the professionals and shop around for a general contractor before building a home from scratch. General contractors generally charge between 10% to 20% of overall home building costs, including permits and materials. Do your research and compare multiple quotes. Ensure the contractor you choose is licensed, bonded, and insured.
If you wish to chip in and save some money along the way, the best plan of action is to help accomplish smaller, individual projects. Building decks and walkways, planting trees and flowers, and painting the house's exterior and interior are all great ways for homeowners to pitch in and save a few bucks.
Begin Construction
Once you have chosen a plot, checked out zoning laws, and found the right contractor for the job, construction can begin.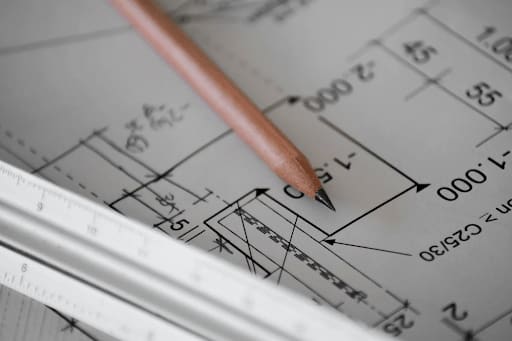 Prepare the Home Site
You need to decide whether your home design will be prefabricated, modular, or custom. Custom homes cost more to plan, so don't neglect this factor when budgeting. A hired contractor will handle the building permit paperwork for you. If you decide to act as an owner-builder, you'll need to seek out your city's planning and development department to obtain a building permit. You will also need to purchase construction insurance — you'll want coverage if anything goes wrong during the building process.
When preparing the home site, you'll need to get your project figured out mentally, on paper, and physically in the home's intended spot.
Clear the site of any debris and foliage. The ground is then leveled, and wooden stakes are driven to denote the outline of the foundation.

Dig trenches to accommodate the foundation walls.

A surveyor will stake out the lot based on original blueprints that indicate property boundaries.

Utilize your contractor's earth-moving equipment if the site's topography needs adjusting to alter water flow across the area.

Rent a

roll-off dumpster

for rubbish created during the building process.

Rent portable toilets for construction workers.

Call the power company to obtain temporary utilities.

Hire an electrician

to set up a temporary electrical panel.
Lay the Foundation
Excavation and foundation installment are when the site begins to take shape. Foundation specialists and excavation contractors handle this work. This venture is one of the most costly parts of homebuilding.
The contractor begins by digging trenches low enough for frost footings. Foundations are placed below the area's expected frost line to prevent frost-heave damage to your home.

Inspectors check that footing trench dimensions are correct.

The contractor then pours the concrete.

Footing drains are built to ensure water doesn't damage the footers.

Vertical foundation walls resting on the footings are installed, usually in the form of concrete or cinder blocks.

The foundation is waterproofed. Holes are made in the foundation wall to allow for the routing of water supply and drain lines.
Install Electrical and Plumbing for Slab-Type Foundation
If you choose a slab-type foundation, you'll bring in electricians and plumbers to rough-in services before pouring the concrete.
If electrical lines run through the concrete slab via metal conduits, they'll be installed at this point.

Pipes will be laid by plumbers.
Pour the Concrete Slab
The contractor will install slab foam insulation.

A minimum of 4 inches of gravel base is installed atop the foam board, forming the concrete base.

A plastic vapor barrier tops the gravel.

Wire mesh reinforcement is laid to sit in the center of the concrete layer for strength.

The contractor then pours the concrete slab via a truck.

Concrete is also laid at this point if you are building a basement or garage.
Frame, Side, and Roof the Home
Once the foundation is laid, your building project starts to look like a house. Framing carpenters will then set the lumber framework for the floors, walls, and ceilings, followed by the sheathing, siding, and roofing.
Based on your building plans, you'll create a framing order of needed lumber, nails, builder's felt or house wrap, and adhesives.

A carpenter crew will frame the house walls, floor, ceiling, and roof skeleton. Framing entails the bare shell of the house without siding and roof surface. Openings for windows, doors, and skylights will be framed at this point. Sheathing the wall and roof are the last steps.

The carpenter crew will then install windows, doors, and skylights. Once these features are installed, and the building is sheathed, electrical and plumbing subcontractors will come in for the rough-in portion of their jobs.

Once the sheathing is wrapped with a weather guard membrane, the finished siding surface is installed.

Roofers apply roof flashings and shingles as the final step. Now your project is coming together!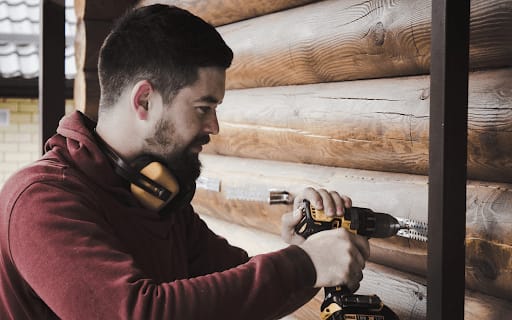 Install Plumbing, Electrical, and Insulation
Electricians, masons, plumbers, and HVAC specialists now arrive to begin the home's interior work.
If you're building a chimney, a mason will install a brick or stone veneer over a concrete block base laid by the foundation contractor.

Electricians and plumbers complete rough-in work for electrical circuits, plumbing pipes, and HVAC system ductwork. Contractors will return after the walls and ceilings are in place to complete the final connections of various devices.

Inspections happen after rough-ins. Permits and inspections are arranged and handled by your contractor. These responsibilities will fall on you if you go the owner-builder route.

An insulation specialty contractor will install insulation in the walls and attic at this time.
Install Trim and Hang Drywall
At this point in the home building journey, the interior starts to look finished.
Drywall is hung throughout the home.

The drywall seams are then taped, covered with joint compound, and sanded.

The interior walls and ceilings are primed with spraying equipment.

Trim moldings are installed throughout, including window and door casings and crown moldings.
Paint Walls and Apply Finishing Touches
Now the painter is brought in to bring your home to life.
The ceilings and walls are painted or finished with stucco or other textured materials. Homeowners can take on this project to save money. Keep in mind that it is quite an enormous task to paint an entire house.

Countertop specialists fabricate and install countertops in the kitchen and bathroom.

Specialty companies install the kitchen and bathroom cabinets.

Plumbers and electricians install and hook up finished plumbing and electrical fixtures at this point. Don't take this task on yourself unless you're incredibly DIY savvy.
Installing the flooring comes next. You can opt for carpeting, hardwood, laminate flooring, tile, granite, and more. A subcontractor can take on this job, though some owner-builders handle this job themselves.
Final touches include exterior landscaping. This can be a DIY project, or you can opt to hire a landscaping company to design and install a luxurious outdoor retreat for you. Final inspections for permitting agencies will be arranged, and then you'll want to schedule a walk-through with your general contractor. Additionally, coordinate a final inspection by your lender if a construction loan was used. Once you've gotten all your assessments and walk-through out of the way, you can start relishing the fine work and truly make your house a home!
The average time required to build a house from the ground up is roughly 7.7 months, while owner-builders take around 12.5 months. Depending on the expertise of your contractor, the weather, and various other factors, the project could take more or less time. This monumental undertaking is a worthy venture to ensure you achieve an ideal home.
When you are ready to begin your home building project in Palm Springs, contact realtor Scott Ehrens. He specializes in selling Palm Springs real estate and can find you the perfect plot of land in Palm Springs and the surrounding areas in which to build your dream home.