Mention Palm Springs architecture to anyone with just a passing interest in home design, and you're likely to hear the response "mid-century modern."
The design movement that spanned the post-war years from 1945 to 1965 found a welcoming home in the Coachella Valley.
There are books and web pages dedicated to it. Television shows and movies feature it prominently. And considering all the songs and albums inspired by Palm Springs, we're fairly certain that listening to any one of them will evoke visions of the notable architectural movement.
Although one could confidently declare Palm Springs the mid-century modern capital of the U.S. (and probably the world), people are often surprised to learn that the city is home to several other distinctive architectural styles.
Let's explore the most popular architectural styles in Palm Springs, and we start with its most famous.
Mid-Century Modern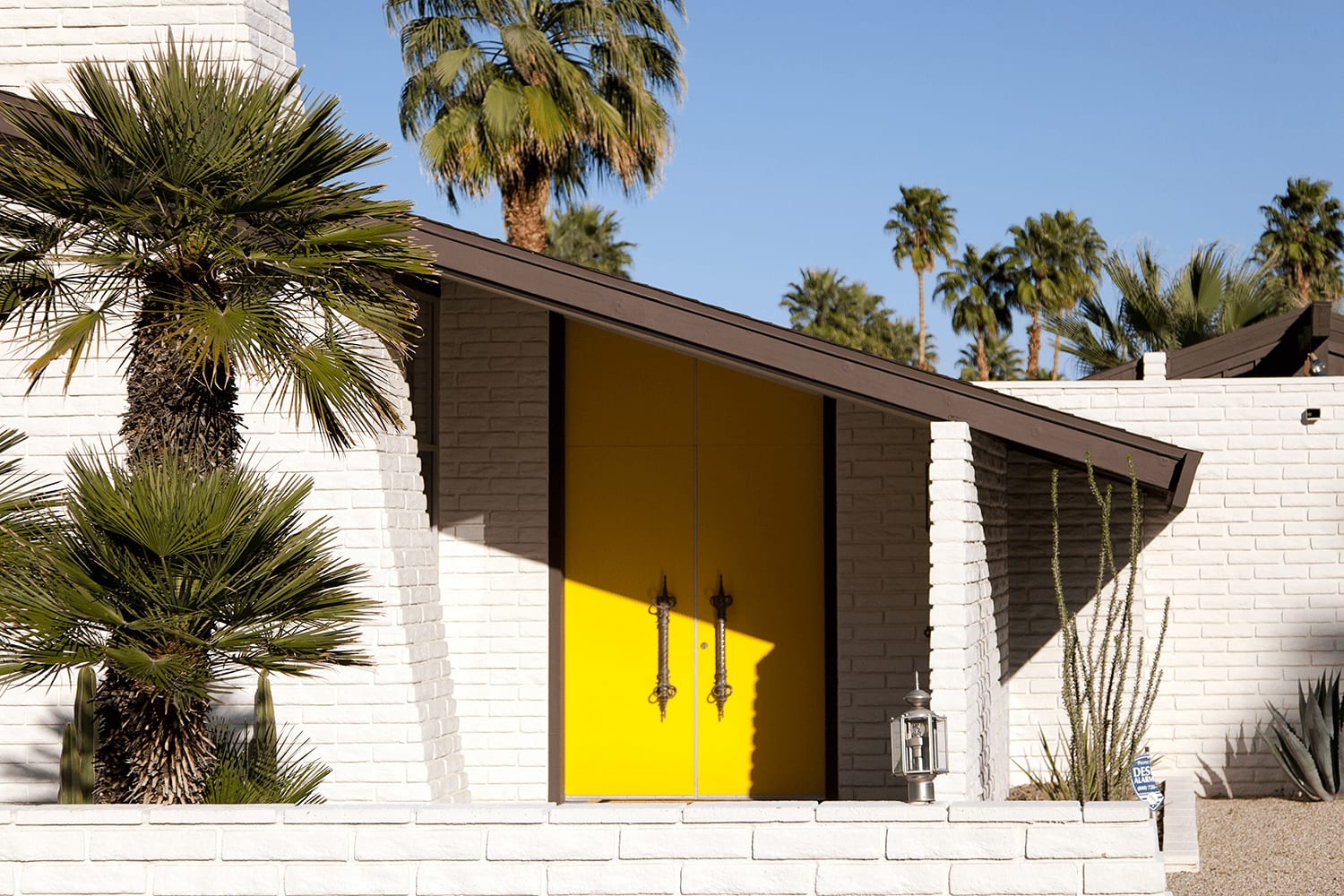 Few places in the U.S., and, really, few places on Earth, are more directly linked with a singular architectural style than Palm Springs is with mid-century modern design.
If one had to estimate the number of mid-century homes in the city, the total would be at least 75% of current homes. And even that might be underestimating what's there. It's that prevalent.
It was born of a design movement that favored sharp, clean lines and incorporated all manner of materials to form up the home. Glass, steel, breezeblocks, whatever would make a bold modern statement and at the same time ensure the home was highly livable.
The primarily single-story, low-pitched mid-century homes in Palm Springs and surrounding areas of the Coachella Valley feature plenty of glass and are crafted to promote an indoor-outdoor lifestyle.
The rapid development of Palm Springs' stock of mid-century modern homes can be primarily attributed to the Hollywood stars of the 1940s and 1950s unofficially declaring the city their winter playground, where the bright lights of Tinseltown were dimmed in favor of the desert sun.
The most prominent architects of the day were invited to either build individual homes or create entire developments from the sparse desert floor. The most notable included William F. Cody, Albert Frey, William Krisel, John Black Lee, Richard Neutra, Donald Wexler, and E. Stewart Williams.
The Alexander Construction Company was responsible for building many of the homes—more than 2,500 in total—and employed the services of William Krisel (along with Dan Palmer) to design the majority of their homes and developments.
Even more extensive are the neighborhoods in Palm Springs that feature mid-century modern design. Whether it's just a handful of homes, the majority of homes, or the entire neighborhood, these communities include the greatest concentration of mid-century modern homes in the Coachella Valley.
Almost every development features at least one home considered to be a masterpiece of mid-century design:
Deepwell Estates:

Features the William Holden Estate and Sutter House

Chino Canyon:

Features the Dr. Franz Alexander House and the Kaufmann Desert House designed by Richard Neutra

Movie Colony:

Features the Twin Palms Sinatra House designed by E. Stewart Williams, Frey House II, owned by the Palm Springs Art Museum, as well as the Elvis Honeymoon Hideaway House (also called House of Tomorrow) designed by William Krisel

Racquet Club Estates:

Features seven Alexander Construction Company Steel Houses designed by Donald Wexler and Richard Harrison

Twin Palms:

Includes the Royal Hawaiian Estates designed by Wexler

Vista Las Palmas:

Features 15 Swiss Miss homes with A-frame entries designed by Charles DuBois and built by the Alexander Construction Company, the Dinah Shore Estate, designed by Wexler and now owned by Leonardo DiCaprio, and the Marilyn Monroe House
Additional neighborhoods where you're sure to find an abundance of mid-century modern homes include El Rancho Vista, Historic Tennis Club, Indian Canyons, Little Beverly Hills, The Mesa, Old Las Palmas, Sunmor, Sunrise Park, and Tahquitz River Estates.
Contemporary
While it seems there's little space for any other residential design aesthetics to grab a foothold in Palm Springs, there are a handful of exceptions to the mid-century modern rule.
We start with a current-day riff on the mid-century—the contemporary home. Contemporary designs adopt the modern acumen—bold lines, open floor plans—but infuse it with a forward-looking mindset. They encapsulate trends of the day and blend styles to create a unique form—Craftsmen exteriors with modern embellishment are a popular contemporary blend.
Effectively "built for now," contemporary homes are often sustainable homes. They are energy-efficient and built from recycled or repurposed materials that aim to create an eco-friendly footprint.
The design is also distinguishable by its effective use of natural building materials. Wood, stone, and glass often feature heavily in contemporary construction and are used in such a way that if built next to a modern home, the distinctions would be clear.
Contemporary homes in Palm Springs are found in Canyon Corridor, Little Tuscany, and Old Las Palmas, with individual residences scattered in other neighborhoods throughout the city.
Mediterranean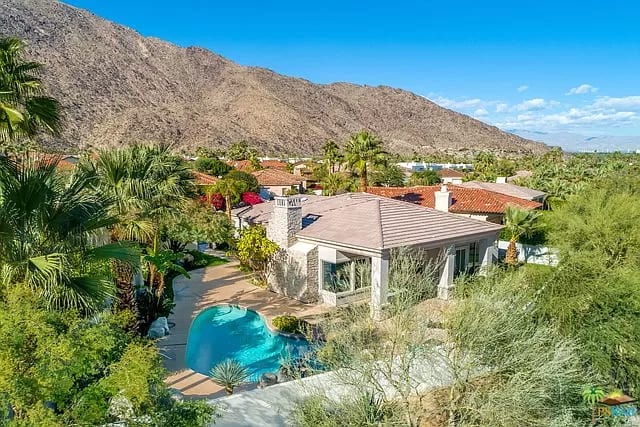 It's difficult to miss the Mediterranean design aesthetic. Cast against the Coachella Valley desert floor and the green canopy of palms rising above it, the stucco facades and terracotta tiled roofs cut a bold profile.
It doesn't stop there, though. Often oversized, with large interior spaces and impressive attention to details, the Mediterranean incorporates a mix of Italian and Spanish accouterments —stone and iron and massive wooden doors—which combine to create a unique and highly distinguished living space.
In neighborhoods that feature a mix of architectural styles, any Mediterranean homes will stand out above all others. Thanks to the natural elements and bold yet classic features, Mediterranean homes are well-suited to the Palm Springs lifestyle.
Mediterranean homes are available in The Mesa, Movie Colony, and Andreas Hills neighborhoods.
Ranch
Unofficially, the residential design style most associated with Americana is the timeless ranch-style home. Going back decades and invoking a classic, Western feel, the Ranch home is arguably the most prevalent property type across vast swaths of the U.S.
Almost always single-story, ranches feature open living, long footprints, and low-pitched roofs. You'll see variations that used either an "L" or "U" shape aesthetic wrapping around a backyard patio. There's almost always a sliding glass door leading to the backyard.
The earliest master-planned communities in the country usually featured a stripped-down ranch floor plan due to simplicity and their ease to build (and even greater ease to maintain).
In Palm Springs, the California Ranch is the preferred variation, which takes the "L" or "U" shape, expands its footprint considerably, and incorporates the design into the surrounding landscape.
Although not as ubiquitous as the mid-century, the ranch features prominently in the Palm Springs real estate scene. You can find a number of ranch homes in Deepwell Estates, The Mesa, and Movie Colony, though they do pop up elsewhere throughout Palm Springs.
Spanish-Style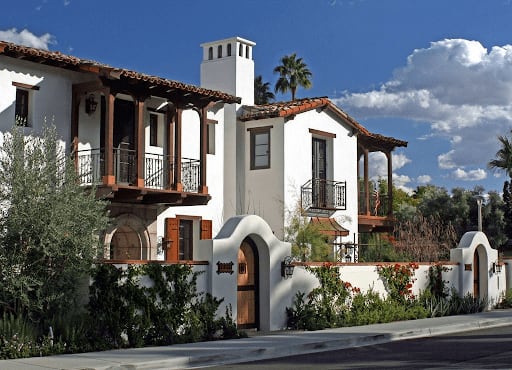 Before mid-century homes occupied every available lot in Palm Springs, there were small, quaint homes bursting with their own sense of style and personality. These are the Spanish-style homes that served as the foundation on which Palm Springs was built.
Exuding an abundance of character and charm, in some cases even more so than the mid-century properties that would replace them, Spanish-style homes were built mainly in the 1920s and 1930s. Their footprints were small, designed to match the modesty of what was then sparse desert.
Many of the local Spanish styles feature a distinctive courtyard, and a handful of properties comes with fountains intact. Arched doorways, exposed wood, painted brick, and red-tiled roofs round out the key elements that have kept these rare homes popular in Palm Springs.
There are actually two types of Spanish-style architecture in the Coachella Valley. The first is the original abodes, which have been expanded and improved over the past 90-plus years yet retain much of the original design aesthetics that have kept them popular relics of a bygone era—before the Hollywood elite made Palm Springs, well, Palm Springs.
The second type of Spanish-style home is genuinely authentic. The small—anywhere from 1.000 to 1,500 square feet—first built homes that serve as a true time capsule of Palm Springs earliest days. These are the hidden gems in the market, and they rarely come on the market. When they do, they go extremely quickly.
However, should the Spanish-style be your home of choice, target your search in the Movie Colony or Old Las Palmas, where most of these homes are concentrated. You can, however, find other Spanish-style homes in Historic Tennis Club, The Mesa, and Tahquitz River Estates. If you do find one, prepare to act fast.
Ready to explore the best of Palm Springs real estate? Contact Scott Ehrens today to start your home buying journey. From Indian Canyons real estate to Old Las Palmas or Vista Las Palmas homes for sale, Scott and his years of experience and expertise can be your guide to the Coachella Valley luxury real estate market.